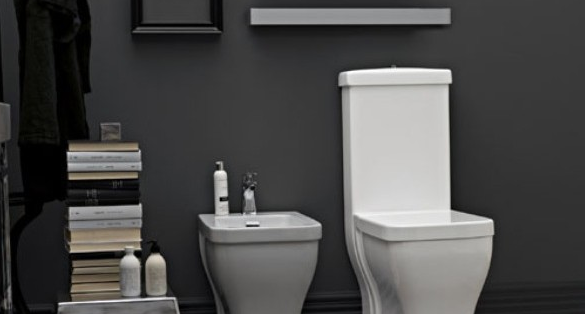 Toilet, commode or commonly known as "The Throne", never forget to take care of your tushy when you are picking out bathroom materials for your bathroom renovations.
Never assume a toilet isn't important when picking out custom bathroom materials for your bathroom renovation, toilets are more than just a ceramic bowl, they add style and functionality to your bathroom and should never be ignored during a bathroom remodel.
With all the new toilet tech, you might want to think about whether you want the 'Rolls Royce' of toilets or the standard 'Sedan'.  The new upgrades available in what we consider an eye sore in a bathroom can transform your toilet into a luxury throne. There are endless bathroom renovation trends to choose from!
The best toilets are the ones that take that one flush to do the job, conserving thousands of water a year while still delivering a clean bowl. You have to look at options including different heights, bowl shapes and flushing technologies when making your selection.
So the question is "how do I choose a commode?"
Start with the basic needs:
Toilet Shape and Height: Standard toilet height is around 14 1/2". This height is preferable for children, so a standard size would be a choice if the bathroom is going to be used by the children of the house.  In recent years toilet bowl height has increased to 16 1/8" floor to rim to assist people with back and leg problems and those with physical disabilities and/or the elderly. This height is also ideal for taller people. Sitting high has become the popular choice and is also a great choice when your renovation is based on a universal design.
Toilets come in round and elongated sizes. Round is ideal for 'squeezy' spaces and elongated provides more sitting room and provides comfort.
The style you select is a matter of personal taste, and you can choose from a variety of styles, ranging from contemporary to traditional.
If you are looking to make your toilet the talk of the tushy, some accessories you can add are a seat heater, toilet illuminating strips, hydraulic hinge (avoiding any 2 a.m.toilet slams) and, though the common lever is chrome plated, you can change it up to match all of your faucets and finishes of your bathroom.
Design: The three basic designs you will hear are 1. One-Piece (Tank and bowl are fused together), 2. Two-Piece (Tank and Bowl come as two separated pieces and 3. Wall Mounted(Mounts to the wall and eliminates need for a toilet foot or base).
One-Piece: May save space, easy to clean and is sleek.
Two-Piece: Most common type, easy to find replacement parts, generally more economical.
Wall-Mounted: Ideal for accessibility, wheelchairs or walkers, does tend to be on the more expensive side. With this style toilet, the drain must be on the wall rather then the floor.
All toilets can come in different colors and shapes, its a personal preference what you desire as your throne. WHITE never goes out of style, so it is a safe color to go with.
When you are shopping for your toilet of choice, always ask about water efficiency and flush performance.  A toilet with a higher flush performance will ensure that all waste is cleared within one single flush, and minimizes the chances of clogging. "What is the MaP Score"?-this is what your question should be to the Sales Associate. Basically, these scores indicate your flushing performance, it is safe to say any toilet between 600-1000g will provide you great flushing.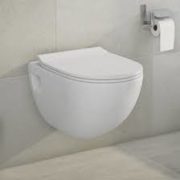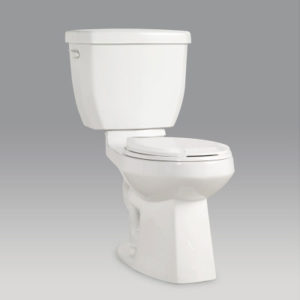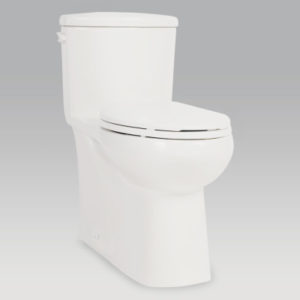 Dual Flush Toilet vs. Single Flush, oh decisions!
Dual flush and single flush can be misleading, the terminology actually refers to the mechanisms on the toilet itself. When talking dual-flush, you will notice two buttons on the top of your toilet, usually with symbols of a moon, representing liquid waste and solid waste. Dual-Flush toilets are known for their ability to save water consumption. But before making that upfront investment in the dual-flush system, you need to do some research, learn 'fact' from 'marketing'.
"FLUSH" is the flow of water that removes the waste and leaves your bowl clean and sparkling and pushes the waste through your pipes…you don't want it sitting there waiting for the next flush!
Before making the PLUNGE in the dual flush system, you need to take in a few considerations, starting with hygiene. Dual-Flush toilets tend to hold less water in the bowl, in which case can cause streaking and can leave waste on the sides of the bowl to harden. Multiple flushing to clean the streaks defeats the purpose of a dual-flush system and actually ends up using more water than a single flush toilet. Though streaks are not aesthetically pleasing, most importantly, they also provide a place where germs can hibernate.
User Friendly, this is another important consideration to think about. Dual-Flush toilets tend to have buttons that can be difficult to push, for most users this isn't an issue, but for users with physical limitations and users that suffer from painful health conditions, this is a barrier in flushing.
Most single flush toilets today are low-flush, but can still use more water than a dual-flush. When deciding on which flushing system to use in your bathroom reno, weigh in some factors, like family size, age groups in the home (children tend to play with the buttons on the toilets more then just a simple flush on a single-flush toilet) and initial cost of the appliance, including installation cost.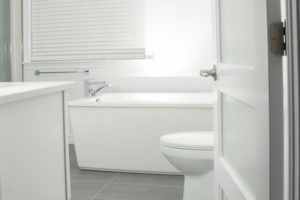 Do The Deed and Do The Research!
If you are looking for a bathroom renovator in Halifax, then please contact the professionals today!
https://www.allcraft.ca/wp-content/uploads/2017/04/Cutom-bathrooms-halifax-toilet.png
314
585
Justin Abernathy
https://www.allcraft.ca/wp-content/uploads/2017/04/AllCraft-Renovations-and-Deck-Building-Logo-2.png
Justin Abernathy
2016-04-14 18:43:53
2018-05-04 12:21:11
Toilet to Throne | Custom Bathrooms in Halifax