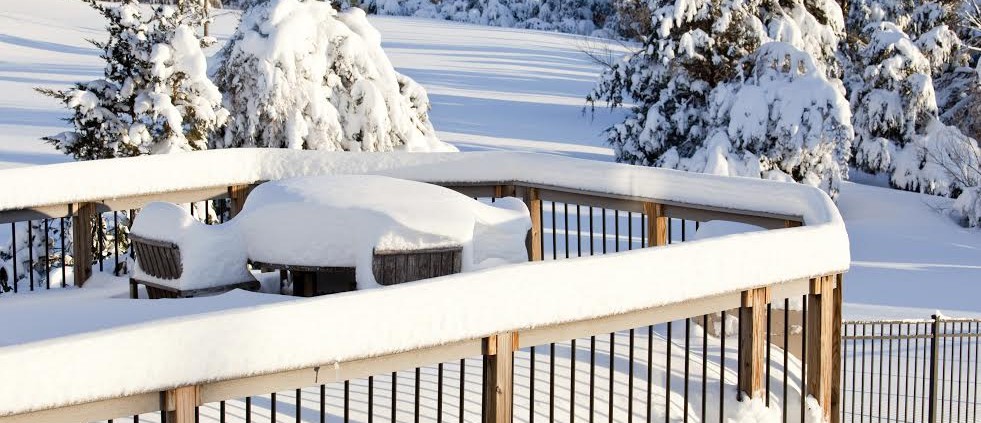 Protecting your deck from winter elements is key for longevity of your deck!
Mother Nature can be very cruel during the winter months, dropping record amounts of snow and leaving us to dig our way around our homes.
Protecting your deck with deck maintenance is extremely important in any season, but especially in the winter because of the fluffy white stuff and the adverse effects it can have on your decks structure.  Keeping your deck clear of snow is just one of many steps that can save your in the long run.
The fact is, when the snow starts falling we head to the snow blower or shovels to get the driveway done and the walkway cleared. But, by the time your done shoveling them the idea of shoveling your deck is about as far away from your mind as summer is. Prolonged exposure to carrying the weight of snow and ice may harm your deck's structural integrity, causing your deck to be unsafe or causing it to collapse. Keeping your deck clean, is just as important as keeping your pathways clean and deiced.
There are many reasons to keep your deck clear of snow, one being that it can be used as an emergency route, allowing access to your home during an emergency, keeping it clear might mean the difference between life and death. Keeping snow away from your patio door and house walls can also help decrease the chances of any water damage to your home.
On average, you will find most decks are built with pressure treated wood, but please note that winter maintenance is different for composite decks, including Trex and Azek. There are different methods of maintenance for different decking materials, always check with your local outdoor living specialist for advice before using any product on your deck.
Bigger is not always better when it comes to clearing the snow off your deck/patio, so if you are thinking snow blower, you might want to leave the "big guy" to your driveway and walkway and pull out the "little guns" for your deck. From electric snow shovels to electric snow throwers, there are options beside the old fashion shovel that you can use, cutting down on heavy lifting and time.
Electric snow shovels are lightweight and a very effective tool for cleaning your deck with ease. Winter can leave a heavy load of snow that needs to be cleared off your deck before it weakens the structure. Because the electric snow shovel is lightweight and maneuverable it is a great choice. It is not a struggle to use it on your deck stairs or a ramp. They usually run you between $115 to $145, a small price to pay to save you time and body pain.
Electric Snow Throwers are a great option for clearing snow from your deck/patio. It provides a little more clearing power than an electric snow shovel. They are equipped with soft rubber or plastic paddles instead of metal augers allowing you to clear the snow without damaging the surface of your deck. Snow throwers are easy to store and do not require gas, you just plug them in and go for it. The investment in this tool usually is between $189 to $289
Don't rule out the "old fashion" method, the winter shovel. Rule of thumb on any decking material your going to use a shovel on is to use a shovel with a rubber or plastic edge and not metal. Using a metal shovel can leave splinters and gauges in your wood as well as composite material.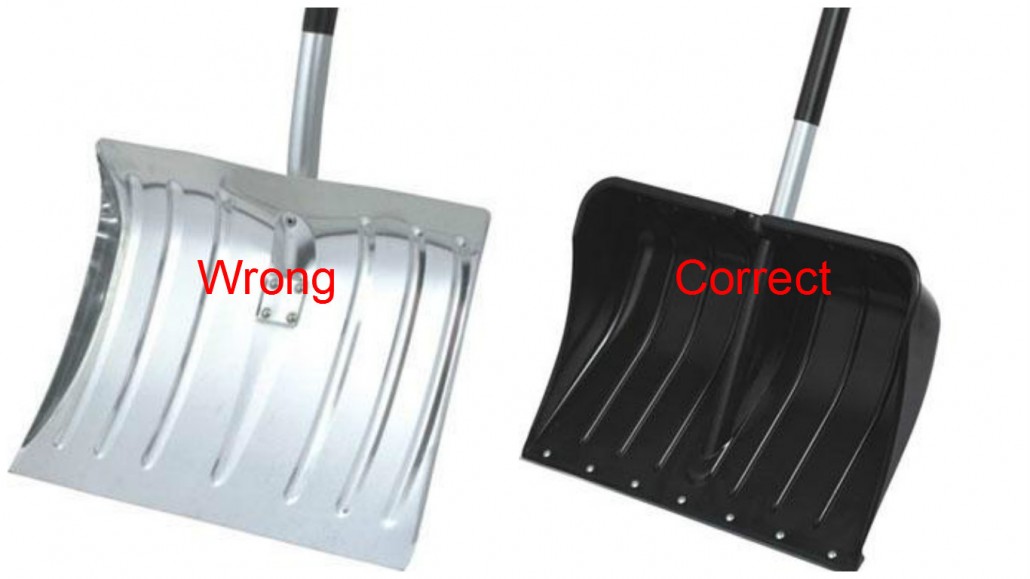 During the winter season, we sometimes forget about our outdoor living spaces and how beautiful they are come spring. Winter maintenance doesn't just begin when the snow starts, maintenance should begin before the snow falls by sweeping off dead leaves and washing down your deck. Leaves that are left on your deck can cause mold and fungus growth which can affect the boards itself.
Make sure you have the correct maintenance regiment for your deck and if you are not sure how to maintain your deck,
Follow us on Facebook, Twitter  and Instagram or contact us by email at info@allcraft.ca

https://www.allcraft.ca/wp-content/uploads/2016/01/Deck-Replacement-Bel-Air.jpg
723
981
Laura
https://www.allcraft.ca/wp-content/uploads/2017/04/AllCraft-Renovations-and-Deck-Building-Logo-2.png
Laura
2016-01-18 18:28:33
2018-05-04 14:14:51
Winter Protection for Your Deck | Halifax Deck