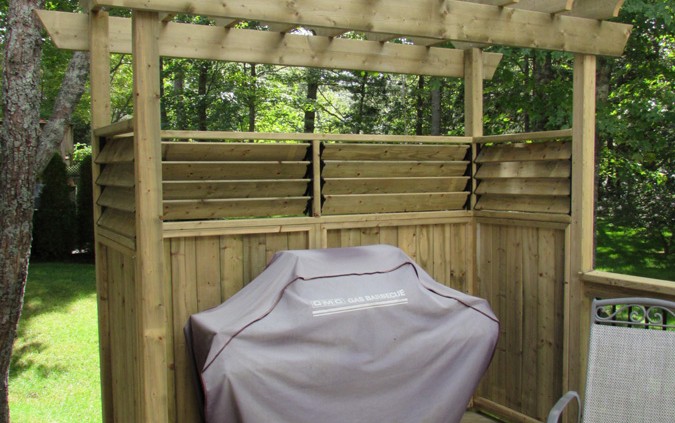 Pergolas are like bows on a present, they are the finishing touch to your outdoor oasis!
The origin of the word pergola is Latin, referring to "projecting eave". Once used for ambience in a garden, it is now used to enhance the visual of a building or outdoor living space. 
Pergolas
combine pleasure with function, providing shade and a unique look. Modern Pergolas can be built from materials such as wood, fiberglass or aluminum. A more costly pergola would be built using materials like brick or stone pillars. Wooden pergolas are built with wood that is weather-resistant, such as western red cedar or eastern white. Pergolas add creativity to your home, they can be your canvas to your backyard art.
Pergolas have been inspiring creation and enriching aesthetic beauty for over 3000 years. They have served many purposes throughout the years, from the gardens of the elite rich, to helping harvest vegetation for the common worker. Pergolas have made a journey into the creative design and no longer are only for the rich elite. With a jump through the ages, the Italians actually brought new life to the beauty of pergolas, adding brick, and large dramatic pillars. Pergolas have built beauty in Greece, Egypt, France, Asia and now they have touched the landscaping of lands all over the world. Some people think pergolas are just a beauty feature, maybe an investment that is not needed, but before you rule out adding a pergola to your outdoor living space you should know that there are different accessories that can be added to make your pergola a benefit to your outdoor life.
Solar panels
can harvest the energy of the sun and at the same time blocking sun and providing shade. Harvesting the energy can allow you to use the energy for your outdoor items like lighting, heating your pool, running your water features and providing energy to your outdoor cooking area. Climate Controls can help you enjoy your pergola-paradise just a little bit more.  So the question is, what are climate controls for a pergola? Well, you can add an outdoor ceiling fan, these can be installed to a solid roof pergola. You can stay fresh and cool with a mister or keep warm on those chilly nights with a heater.
Pergola lighting can keep the party bright after the sun sets, leaving the hours of outdoor fun everlasting! Lighting choices can be overwhelming, and like a Christmas Tree, there are so many factors when placing them in the right place.
 Outdoor Pergola Lighting Tips
Create the right ambiance
 Direct lighting-highlight key features of the pergola
Indirect lighting-to create the right mood
Avoid Glare
All-Craft would love to be your artist, coloring your backyard canvas with color and character!
https://www.allcraft.ca/wp-content/uploads/2015/01/Pergola_Bedford_Eakins.jpg
900
675
Laura
https://www.allcraft.ca/wp-content/uploads/2017/04/AllCraft-Renovations-and-Deck-Building-Logo-2.png
Laura
2015-01-20 15:25:18
2018-02-20 15:34:22
Pergola Paradise | Decks | Halifax