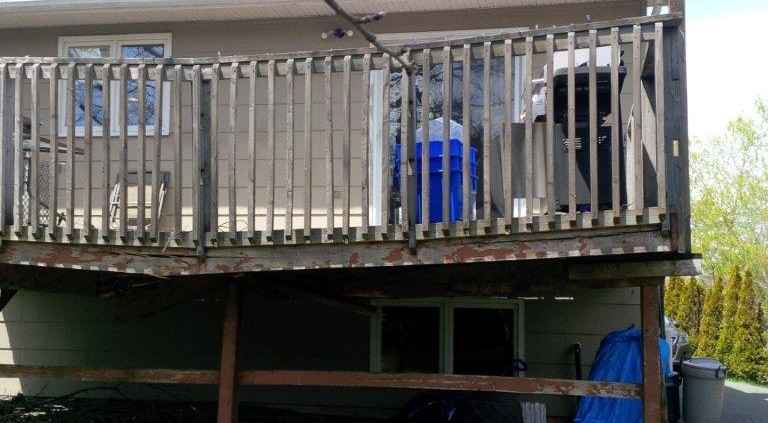 May always provides an exciting month – spring flowers, the Scotiabank Bluenose Marathon, Beloved
Mother's day and Victoria day … it's a busy month and for us in construction this month raises a time to
stress an important message, deck safety. With the warmer weather and sunshine beaming we are
setting our sights on spending more time outdoors and a deck or outdoor living space can be the perfect
place to spend time enjoying the weather with family and friends and we want to help you avoid
potential mishaps this season as a well-built and well- maintained deck offers a safe haven for outdoor
quality of life.
The North American Deck & Railing Association declares May as Deck Safety month and promotes this
program in an effort to improve safety, prevent injuries and save lives. All-Craft is committed to this
program as we take deck safety very seriously and make it a priority to ensure that you deck is built to
code and is safe.
The NADRA emphasizes the importance of maintenance of existing decks and proper installation of new
decks as an unsafe deck could collapse, causing serious injuries to you and your guests
Did you know the NADRA estimates there are over 40 million decks in the USA that are over 20 years old
and the NADRA states that the number of deck failures and resulting injuries are increasing at an
alarming rate. Yes. American statistics but our Canadian decks are not far behind them … decks don't
last forever and craftsmanship on this area of your home needs to be of highest quality.
Reasons for a deck collapsing can range from age of the deck, poor maintenance and exceeding load
capacity to improper building methods. Deck collapses happen far too frequently and when they do
happen, they happen fast – click here to out a devastating deck collapses on You Tube
The good news any deck mishap can be avoided. The NADRA emphasizes that it is a matter of
awareness around the necessity of choosing a professional deck builder, maintenance and inspection,
and knowing the limits of the deck structure. NADRA.org 
So let's discover the potential disaster before it happens – we are here to help! Click here for a 10 point
Deck inspection checklist which provides some guidelines for what areas need to be repaired or what
needs attention. With key areas outlined from split or decaying wood, to railings and banisters,
cleaning and maintenance, lighting and electrical, outdoor furniture and everything in between. Wow,
a lot right but there's a lot to consider when thinking about the safety of your deck for your loved
ones.
Our experts at All-Craft have an eye for safety and can go one step further for you by inspecting
everything from substructure to ledger connections, posts and footings, post-to-beam connections,
joists and joist connections, stairs, deck boards, handrail assemblies and guards and miscellaneous.
An inspection can determine structural supports and connections, such as post sizes, fastener types
and specific design aspects as well as any visible indications of corrosion or weakness. All you have to
do is call us for a no charge consultation.
Read more: Jim Miller active NADRA member, whose company participates in education and advocacy
efforts centered on deck safety each year discussing importance of deck safety.
All of this might sound complicated but certainly an important necessity that is why the All-Craft team is
here to help. Contact us today for your no charge consultation where our expert consultants who has an
eye of what to look for and what is or isn't allowed. We can walk through the safety of your current deck
and help you solve potential issues.
Like us on Facebook to access Deck Safety check lists that will be posted throughout this month.
Creating your dream outdoor living space safely is a complicated task to undertake – Read the following
article where we highlight some of the complexities and why hiring a professional is in your best
interest.
https://www.allcraft.ca/wp-content/uploads/2014/08/Before.Deck-7.jpg
768
768
justinj
https://www.allcraft.ca/wp-content/uploads/2017/04/AllCraft-Renovations-and-Deck-Building-Logo-2.png
justinj
2014-08-08 19:30:04
2018-02-09 20:22:38
Deck Safety, Check Your Deck | Halifax, NS