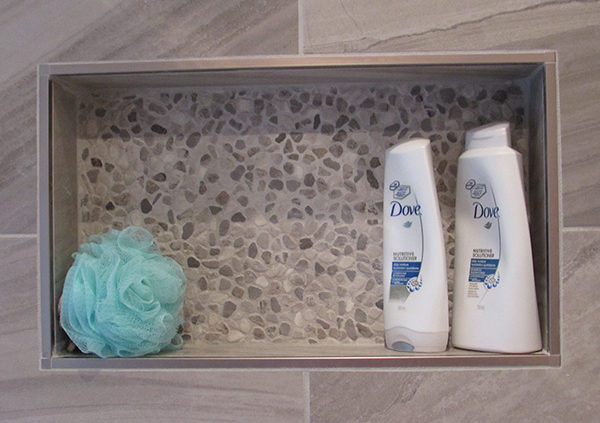 What Is A Custom Shower?
Custom means customizing, so building to your individual specifications, or in design terms, designing to your wants and desires.
Custom showers are the trend of 2016 in home renovations.  Homeowners are craving that spa-like atmosphere when coming home from a long day at work, or even just a place to relax away from every day life.
When day dreaming about a custom shower, you need to think about what you want from your shower. Men and women can differ on this vision.  On average, the man of the house is looking for a place to get in, get out, but lets face it, as soon as he gets a taste of a custom bench with a rainhead shower drenching his body while he sits and relaxes, he will soon be envisioning the same custom shower that the woman of the castle is dreaming about, except she is thinking about the comfort of shaving her legs with a custom bench.
So this vision that leaves you in a tranquil state of mind, it could include trending features like sleek faucets, silk tile, benches, custom niches, speaker systems and could even include a 5 therapy therapeutic care unit.  The features are limitless when considering a new bathroom renovation.
Design is key, starting with showerheads. Self-control is difficult to have when trying to design your showerhead component of your custom shower, and here is where that heartbreaking word comes out, budget. The combinations are endless, from multi-function showerheads to bodysprays and steam showers.  At the end of the day, it all comes down to cost and budget.  A custom shower can be just as luxurious and relaxing with two shower heads than one with a steam shower.
For most of  us day to day bathroom users, we don't really know what is considered a trendy custom shower. If you are trying to get that tranquil feeling at the end of the day on an everyday budget, you can dream of  a custom bench with a rainhead installed overhead, an adjustable handheld, custom niche, beautiful stylish tile with an accent border and a glass door with bold finishes, usually chrome or brushed nickel, matching your faucet selection. These main components will give you that 'spa-like' feeling.
Because of the amazing bathroom material selection available, it is always good to hire a professional renovation company for design/build and material selection assistance to reinsure you are stress-free with your custom bathroom renovation.
Click here for our gallery to see custom shower projects
or if you would like to schedule a quote, please contact the professional at All-Craft Renovations.
https://www.allcraft.ca/wp-content/uploads/2017/04/Custom-Halifax-Bathroom-Renovation-2.jpg
450
600
Justin Abernathy
https://www.allcraft.ca/wp-content/uploads/2017/04/AllCraft-Renovations-and-Deck-Building-Logo-2.png
Justin Abernathy
2016-05-20 18:32:37
2018-02-20 15:45:39
Shower, Customizing Trends - Halifax