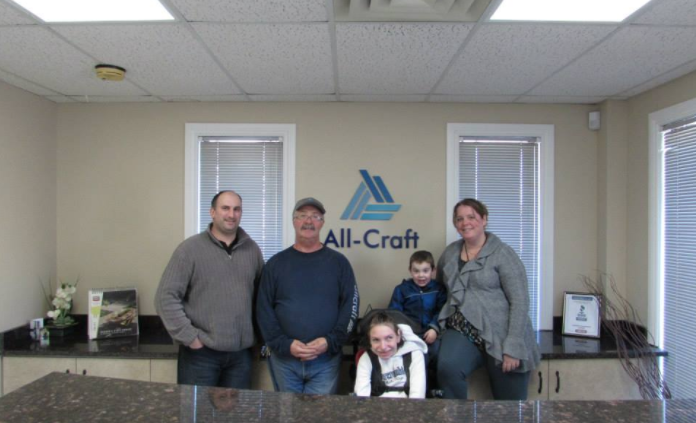 Danna Van Campaign
Meet Danna, Danna is the granddaughter of our own team member Murray. Danna is a 16 year old brilliant ray of sunshine who suffers from a condition known as Bilateral Open Lip Schizencephaly, the second rarest known brain malformation caused by an in-utero stroke. This condition has a probability of 1.48 for every 100,000. From the moment we met Danna we instantly recognized how intelligent, strong and inspiring this little teenager was and the love and support the entire family gives to each other so evident it was almost physically palpable.
Danna was predicted with failure to thrive at 6 months old and medical professionals gave her 1 year to live … And here it is 16 years later and she is defying the odds, continuing to grow and enjoy life. How Danna is continuing to grow and gain weight is a miracle in itself, however the strain on the family physically is a challenge they need to overcome.
Every year the All-Craft family extends their supports in means of giving back to the community. Brian, Project Consultant, has years of experience as head organizer for the Halifax Terry Fox Run and Justin, Project Manager, raises awareness and donations every year for the Heart and Stroke foundation BMO Hockey Heroes weekend.
As Danna's family is currently lifting her from her wheelchair to the car seat and lifting the wheelchair into the back of the car to transport her we immediately recognized the strain on the family and wanted to help, therefore a wheelchair accessible van is what we set our hearts on achieving for Danna and her family. The support of a wheelchair accessible van will ensure the ability to transport Danna safely in her wheelchair and protect the family from physically lifting her which all together means Danna can stay at home in her circle of love and support versus having to be relocated to a continued care facility that has access to lifting equipment.
'Project Danna van' is about increasing awareness around brain malformations and supporting All-Craft's extended family in purchasing a wheelchair accessible van.  For every project built, All-Craft is donating a percentage of revenue to the Danna Van Campaign till the dream comes true.
https://www.allcraft.ca/wp-content/uploads/2017/04/Screen-Shot-2017-04-20-at-3.50.56-PM.png
518
696
Justin Abernathy
https://www.allcraft.ca/wp-content/uploads/2017/04/AllCraft-Renovations-and-Deck-Building-Logo-2.png
Justin Abernathy
2016-04-20 18:51:20
2018-05-08 19:31:01
Danna Van Campaign | All-Craft